what is digital marketing? A Definitive Guide to Digital Marketing in 2022.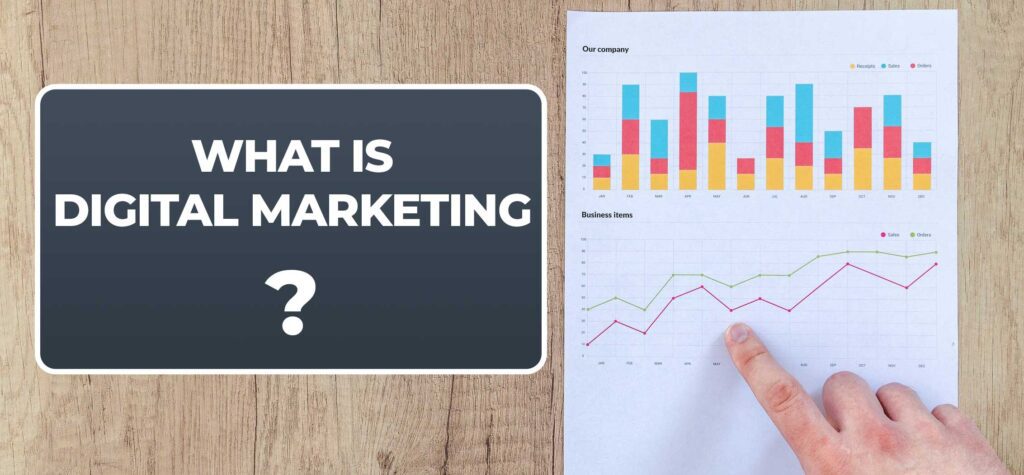 A Definitive Guide to Digital Marketing.
Digital marketing is the marketing of goods and services through digital technologies.
Digital marketing is the marketing and advertising of a business, person, product, or service using online channels, electronic devices, and digital technologies.
Today, digital marketing often focuses on reaching customers with increasingly conversion-focused messages across multiple channels as they move through the sales funnel. Ideally, marketing teams will be able to track the role each of these messages and/or channels play in achieving their ultimate goal.
Examples of digital marketing:
Social Media Marketing (SMM)

Website Marketing

pay-per-click (PPC) Advertising

Search Engine Optimization (SEO)

Email Marketing

Content Marketing

Affiliate Marketing

Inbound Marketing

Mobile Marketing

Video Marketing
What is the difference between digital marketing from traditional marketing?
Traditional marketing uses offline channels like may use billboards, print ads, mailers, etc. while digital marketing uses digital channels like search engines, social media, applications, email, websites, etc. Digital channels that use for marketing provide measurable results which make digital marketing more cost-effective. 
With traditional marketing, it's difficult to track whether someone found your business through a billboard, radio ad, or newspaper. When you can't track your marketing efforts, you can't measure their performance, making it difficult to prove that your marketing has value. When it comes to digital marketing, it's easy to track digital marketing performance and results.
Why is Digital Marketing more Important?
Digital marketing matters today because of a lot of reasons such as Cost-effective marketing solutions, Advanced targeting options, Multiple online marketing strategies, a Level playing field, Accurate tracking and measurement of campaigns, and ongoing feedback on campaign performance.
With digital marketing, you can choose from a variety of tactics such as SEO, PPC, Content marketing, Conversion rate optimization (CRO), Social media marketing, etc.. that most suits your business. One of the big and prominent advantages of digital marketing is that you can choose and market your product or business where potential customers exist rather than investing in advertisements without knowing the audience.
Types of Digital Marketing:
1. Social Media Marketing (SMM)
Consumers today are highly engaging on social media platforms such as Instagram, Facebook, LinkedIn, Twitter, Snapchat, etc. Social media platforms allow marketers to reach their potential customers in many different ways. Marketing teams can use these channels to distribute paid ads and sponsored content. Each platform has a way for marketing teams to create paid advertising campaigns and segment users so that those ads appear in the feeds of target audience members. While each platform is different, most have features that allow marketing teams to place ads based on location, job title, interests, age, etc.
2. Website Marketing
Websites are central to most all digital marketing campaigns. It is a very powerful channel on its own, but it is also the medium for the execution of most other online marketing campaigns.
A Website can act as an easily accessible digital catalog of your business, at the same time as a conversion funnel too. 
Once you have a website, the next step is to come up with a digital marketing strategy to promote your website and content to get more traffic and customers.
3. Pay-Per-Click (PPC) Advertising
PPC advertising allows you to reach Internet users on several networks through paid advertising.
Pay-per-click is a form of paid advertising that allows marketing teams to essentially buy traffic to their website. Marketers place ads on websites or search engines such as Google, and Microsoft Bing and pay a fee for each click on the ad. These ads often appear at the top of the search results page and are usually determined by bidding on specific keywords, while banner ads on websites usually have set prices.
Search Engine Optimization (SEO)
Search engine optimization is the process of optimizing your website for search engines.
The main goal of SEO is to help a website rank higher in search results and get organic traffic from search engines. Search engine optimization often goes hand in hand with content marketing.
SEO in 2022 is even more important to get right. If you don't, all your hard work on optimizing your content can backfire!
Based on merit, SEO is of two types:
1. White hat SEO:
White hat SEO or just "SEO" uses an approved search engine optimization strategy by Google and other major search engines. These include
2. Black hat SEO
Black hat SEO refers to the attempt to manipulate search rankings by going against search engine guidelines and exploiting weaknesses in their algorithms.
SEO has a number of sub-processes:
On-Page SEO

Off-Page SEO

Technical SEO