Google Rolls Out its Core Update for November 2023: What You Need to Know!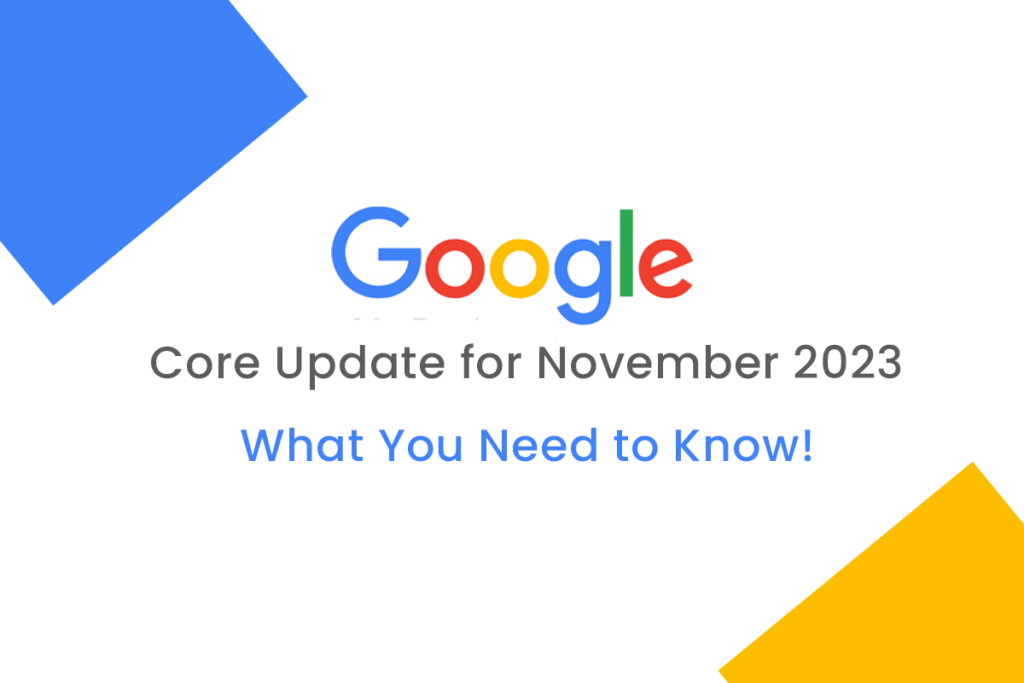 The review update process is transitioning to regular ongoing updates, signifying that Google will no longer be making public announcements regarding forthcoming review updates.
Google's November 2023 core update is currently in progress and is expected to continue for approximately two weeks.
This marks the fourth major core algorithm update in 2023. The year began with the March 2023 core update, initiating on March 15 and concluding by March 28. Following that, the August 2023 core update, the second of the year, began rolling out on August 22 and finalized on September 7. Subsequently, the third core update, known as the October 2023 core update, was initiated on October 5 and successfully completed on October 19.
In the latest core update, Google has announced that this update involves an enhancement to a different core system compared to the previous month. The guidance provided by Google regarding core updates remains consistent for both types.
Additionally, a reviews update is anticipated for the upcoming week. Google has indicated that this will mark a shift away from periodic notifications regarding improvements to the reviews system, as these enhancements will occur on a regular and ongoing basis.
For more comprehensive information on the new core update and the forthcoming reviews update, Google has published an in-depth Q&A.
Google clarifies the frequency of core updates by explaining that they pertain to various systems integral to their ranking process. Each core update aims to enhance a specific core system.
Google distinguishes between a ranking update and a ranking system, clarifying that ranking systems are employed to generate search results. Updates represent improvements made to these ranking systems.
Automated systems are employed by Google to rank search results, with continuous efforts to enhance these systems for better results.
Regarding overlapping updates, Google acknowledges efforts to separate notable updates for easier identification by site owners. However, due to the volume of updates, complete separation is not always feasible.
Inquiries are addressed regarding updates during the holiday season, with Google emphasizing the release of updates when they are ready and can improve search results.
In the event of a negative impact on your site due to a core update, Google advises that specific recovery actions are not necessary. Instead, site owners should consider a set of questions provided by Google.
Google also notes that some recovery may occur between core updates, with significant changes typically observed following another core update.
Understanding when Google releases core updates is crucial, as they can affect your site's search engine rankings. Monitoring analytics and rankings in the weeks following an update is recommended.
Please be aware that multiple updates, including the spam update, are rolling out concurrently, making it challenging to isolate the exact impact on your site.
For reference, here is a timeline of recent core updates and their respective dates:
October 2023 core update: October 5th to October 19th
August 2023 core update: August 22nd to September 7th
March 2023 core update: March 15th to March 28th
September 2022 broad core update: Ended on September 26th
May 2022 broad core update: A significant and rapid update
November 2021 core update
July 2021 core update
June 2021 core update: Slow rollout but substantial impact
Furthermore, Google has introduced other recent algorithm updates, including the October 2023 spam update and the September 2023 helpful content update.
A recent bug with the core update impacting Discover traffic has been resolved by Google.
For additional insights into past Google updates, please refer to our comprehensive coverage.
An algorithm update, in the context of search engines like Google, is a modification to the complex set of rules and calculations that determine how search results are ranked and displayed to users. These updates are essential for maintaining the relevance and quality of search results. Algorithm updates aim to improve the user experience by ensuring that the most valuable and trustworthy content appears at the top of search results. Understanding these updates and their impact on your website's visibility is crucial for effective search engine optimization (SEO)."